Clinical Pilates helps build a strong abdominal core, from the deep inner layer of muscles to the more superficial layers. Core strength combined with pelvic stability is the origins from which a strong mid-section of the spine is built. This stabilises the torso and enables stable and firm movement to flow.
Recent research has shown that specific exercise programs designed and supervised by Physiotherapists are the most effective management for problems such as tendinopathies, muscular tears and back pain.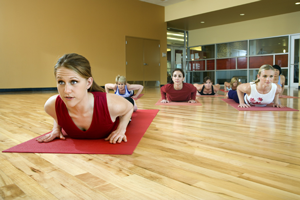 Clinical Pilates is used by Physiotherapists to:
reduce pain
correct biomechanics
improve posture
improve flexibility
improve tone and strength
enhance athletic performance
prevent injury

Patients commencing a Clinical Pilates program require close supervision by a certified Physiotherapist. This ensures the patient masters the techniques of Pilates while a specific program for their rehabilitation is devised.
As the patient progresses through the sessions, movements which once seemed clumsy and awkward are performed with co-ordination and ease.
At this point the patient can progress from supervised sessions to semi-supervised sessions and finally to unsupervised sessions. Technique and exercise upgrades are encouraged regularly to maintain progress. Programs are eventually progressed to high level floor work and home exercise programs.
Clinical Pilates is covered by Workcover, TAC and private health insurance. HICAPS facilities are available.